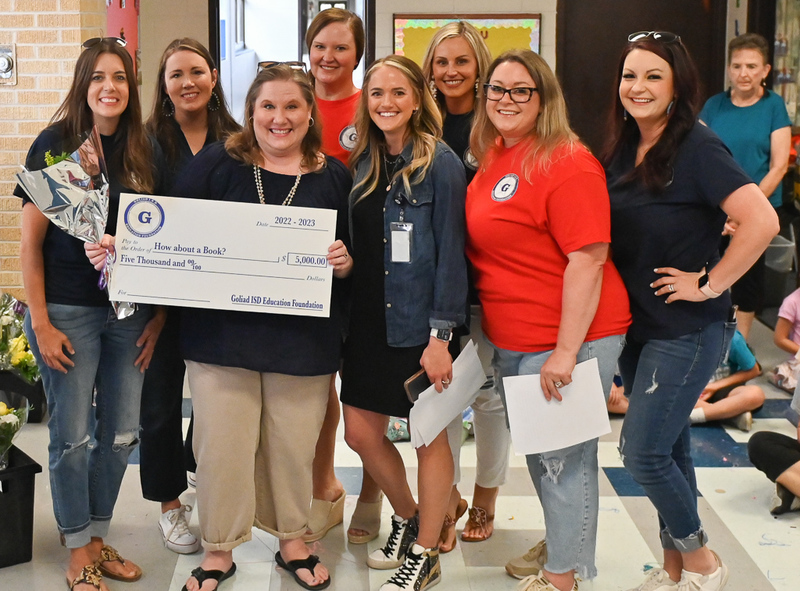 How About a Book?
Sharon Howard, elementary library, and Shelby Taylor, elementary principal, will be awarded $5,000 from the Goliad Education Foundation for a Bookworm Vending Machine for the Elementary Students to receive a book as an award/ incentive.
---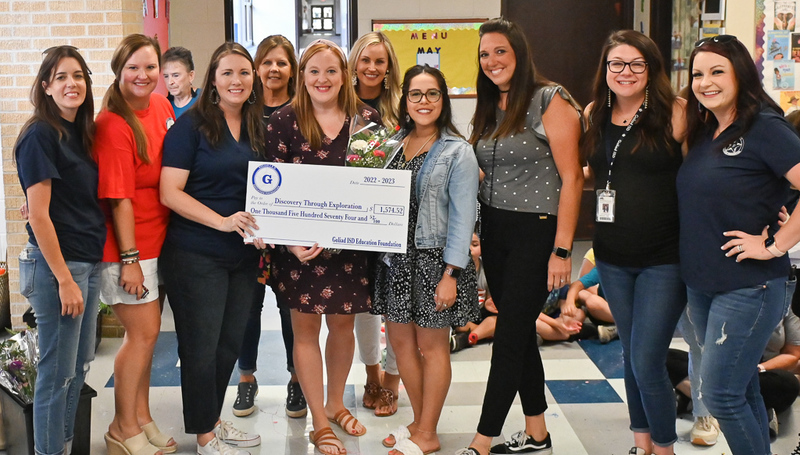 Discovery Through Exploration
The Kindergarten team of Alison Edwards, Brianna Rodriguez, Allison Thomas and Alyssa Hudson will be receiving $1,574.52 for entry and travel costs for students to experience the DoSeum.
---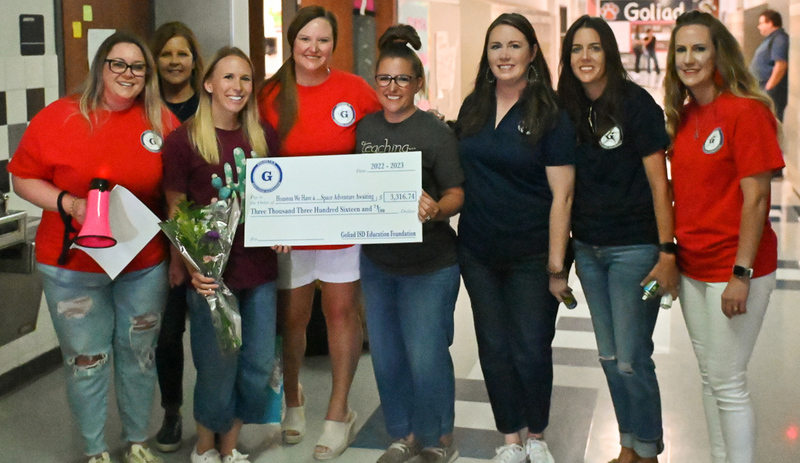 Houston, We Have a ... Space Adventure Awaiting
The fourth-grade team of Victoria Jimerson, Rebecca Garcia, Jaquelyn Rubio, Christina DeLosSantos and Megan Tislow will be receiving $3,316.74 to purchase student entry fees and transportation to NASA Space Center in Houston.
---
The Witte Museum: Where Science, Nature & Culture Meet Adventure
The fifth-grade team of Michele Mckelvey, Dana Ackley, Mica Smith, Amber Pantel and Ronda Casner will be awarded $1,969 for entry and travel costs for students to experience the Witte Museum in San Antonio.
---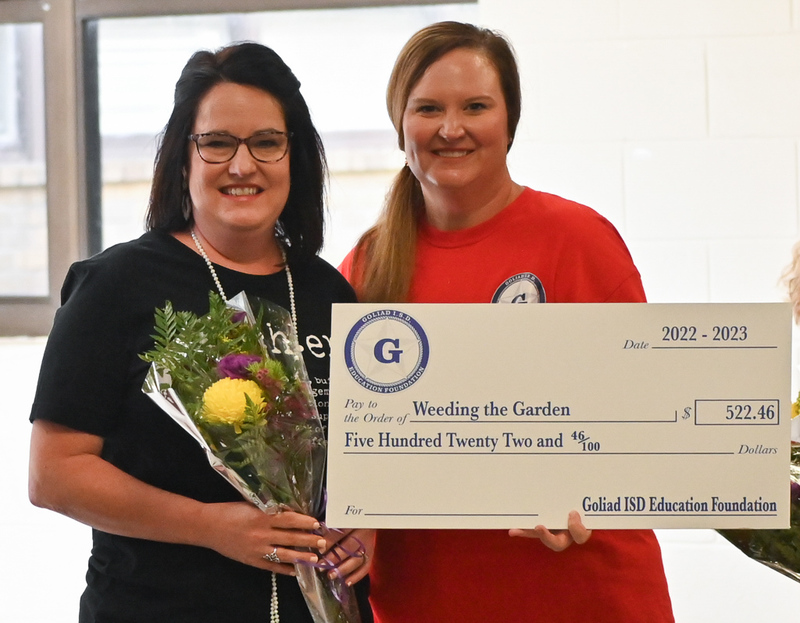 Weeding the Garden
Beth Hoffer, Glenda Pompa, Paige Preston and Allison Edwards will be awarded $522.46 for Prek – second grade students to continue the Kinder-Garden that was started several years ago. Gardening supplies and plants will be purchased with these funds for students to learn the importance of teamwork and responsibility.
---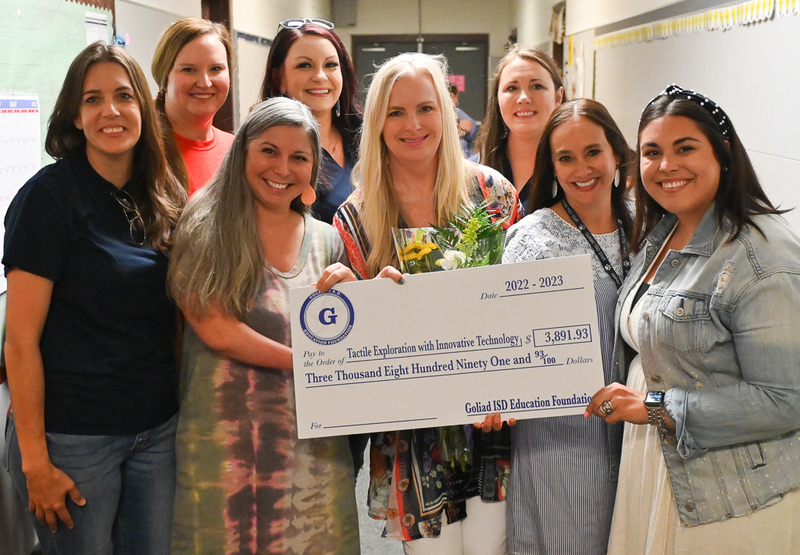 Tactile Exploration with Innovative Technology
The second grade team of Tisch McDaniel, Angelina DeLaGarza, Ann Mary Gansky and Paige Preston will receive $3,891.93 for Amazon Fire 7 tablets along with the Osmo Learning Systems. Students will enhance their lessons with these hands-on interactive games.
---
Magik 1.0
The first-grade team of Beth Hoffer, Cori Bloch Dora DeLaGarza, Felicia Wills and Sara MacEachern will be awarded $1,566 to purchase student entry fees and transportation to the Magik Theatre in San Antonio. Students will enjoy numerous activities from the classroom guide provided by The Magik Theatre.
---
Little Library-Take A Book Share a Book
First Grade teachers Dora DeLaGarza, Beth Hoffer, Sara MacEachern and Felicia Wills will be awarded $1,259.65 for Composite 2- story Little Libraries and book bundles for each location. These libraries will encourage students to become lifelong readers by providing books even when school is not in session.
---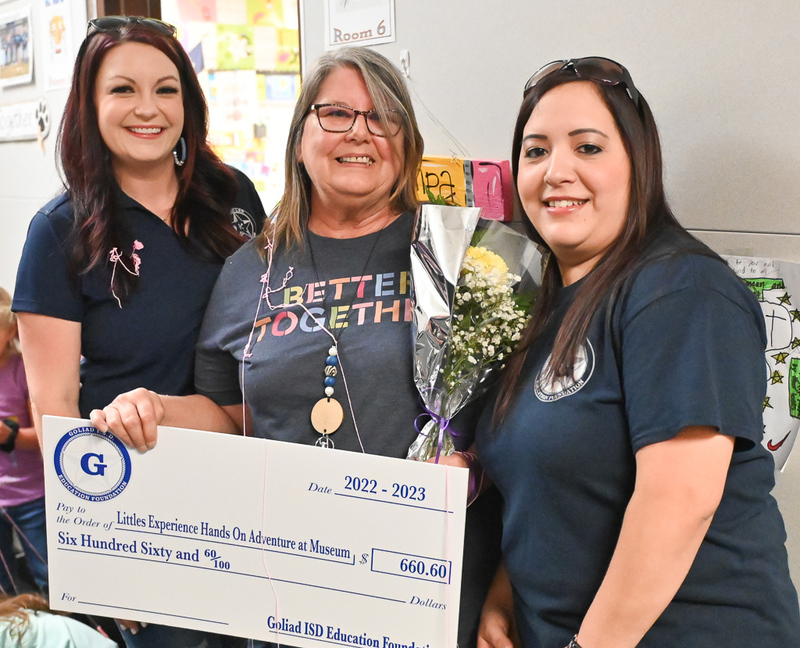 Littles Experience Hands On Adventure at Museum
Glenda Pompa, Kimberley Smullen, Suzanne Barnett, Megan Anderson and Emilie Williams will be awarded $660.60 for admission into the Children's Discovery Museum in Victoria. Students will have the opportunity to investigate exhibits and then discuss them at circle time.
---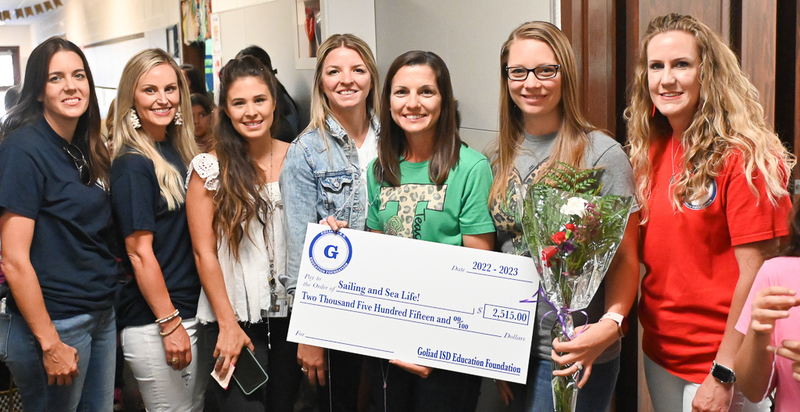 Sailing and Sea Life!
The third-grade team of Julie Franke, Colleen Gregorcyk, Melissa Cox and Natalie Dickson will receive $2,515 for an exciting adventure aboard The Island Queen in Port Aransas. The classes will to go out into the waters of the Gulf of Mexico to trawl the waters with a net and gain knowledge about sea life, dolphins and birds.
---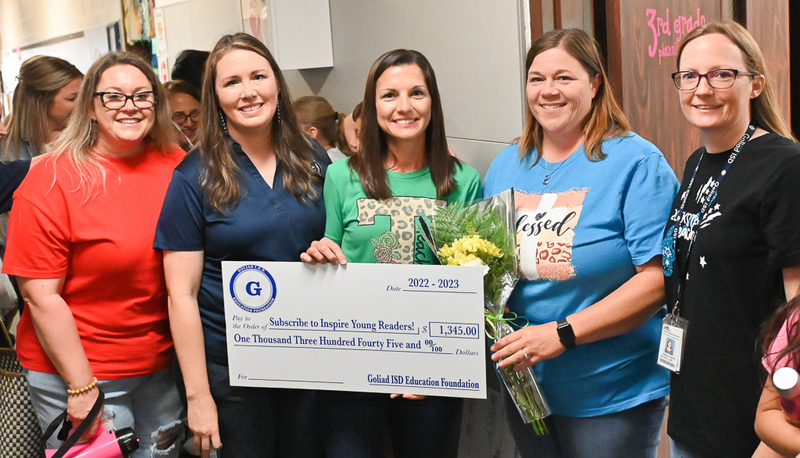 Subscribe to Inspire Young Readers!
The elementary team of Julie Franke, Ronda Casner and Rebecca Garcia will receive $1,345 for subscriptions of Highlights Magazine. Each month students will be able to read and complete activities that are up to date on news and age-appropriate learning.
---
A Sensory Adventure at Morgan's Wonderland
The Life Skills team of Jodi Smith, Caitlyn Carnes, Helen Mata, Stephanie Aguilar, Da'lissa Spaeth and Atlanta Moore will be awarded $683.58 for a fun filled day to Morgan's Wonderland in San Antonio. Special Education Life Skills students at the elementary, middle and high schools will have the opportunity to rotate through various learning stations at the park.
---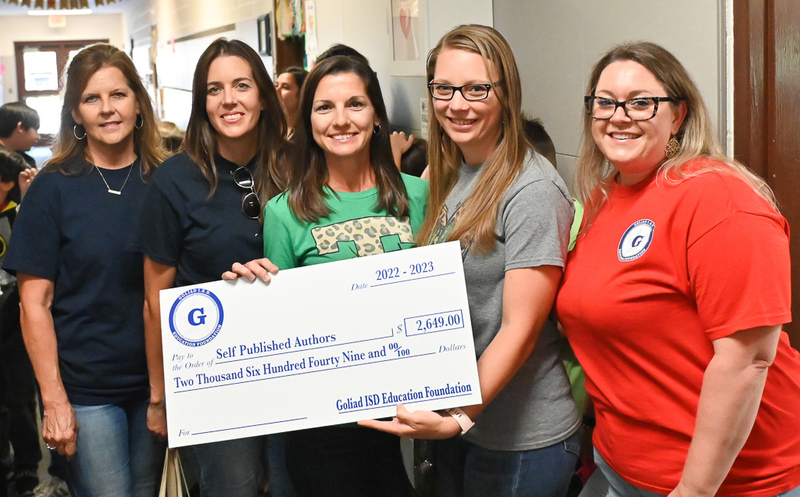 Self Published Authors
Melissa Cox and Julie Franke, first and third, will be awarded $2,649 for Student Treasurers Publishing. Student Treasurers provides resources for educators to make the book. Each student will collaborate on a theme, write, edit and publish their work.
---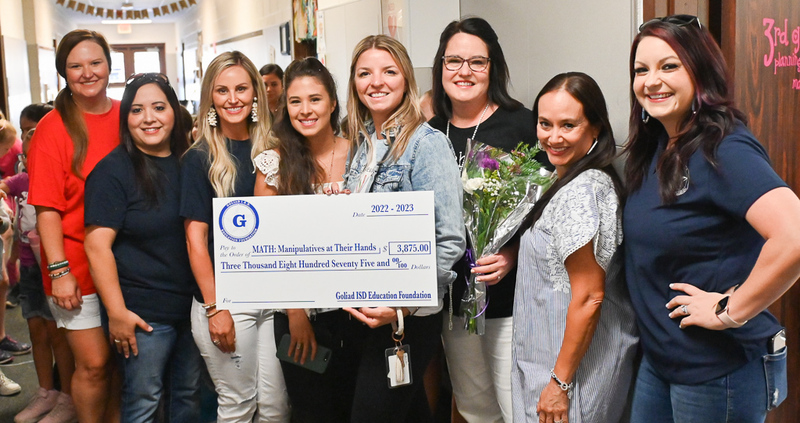 MATH: Manipulatives at Their Hands
The elementary team of Colleen Gregorcyk, Natalie Dickson, Glenda Pompa, Briana Rodriguez, Beth Hoffer, Angelina De La Garza, Jaqui Rubio, Michelle McKelvey and Jodi Smith will receive $3,875 for 31 plastic pencil case utility storage box and a multi-purpose organizer for school supplies and Humble Crew toy storage organizer. These items will bring organization to the math classroom at the Elementary.
---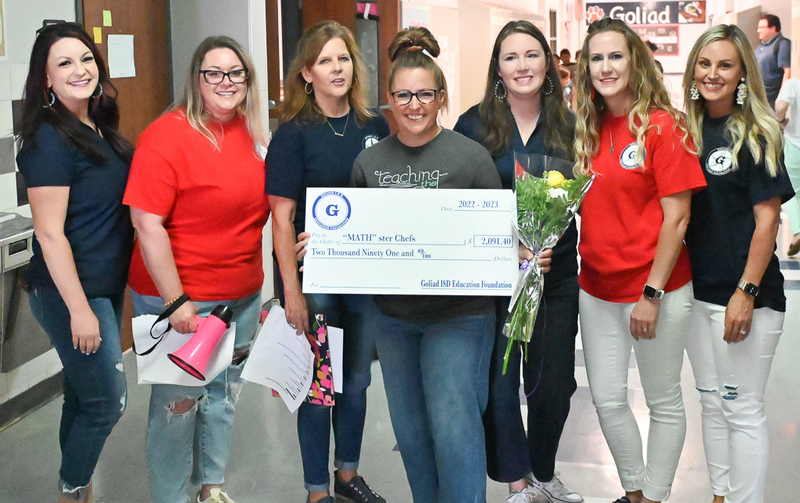 'MATH'ster Chefs
Megan Tislow and Jaquelyn Rubio will be receiving $2,091.40 for an assortment of ingredients to be used to create yummy treats during a monthly cooking lesson. Each student will also create recipe cards for these treats to remake at home with their families, stemming engaging parental involvement at home.
---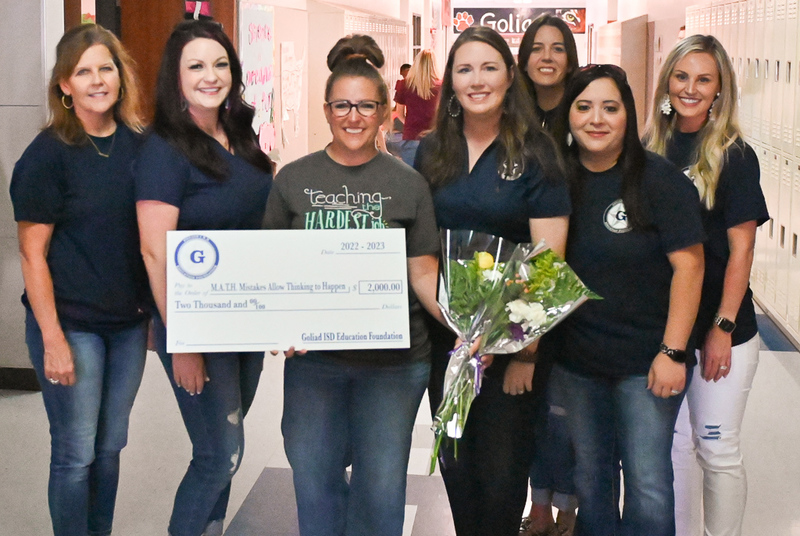 M.A.T.H. Mistakes Allow Thinking to Happen
The team of Megan Tislow and Jacqulyn Rubio will be receiving $2,000 for the purchase of educational games for a math after school club. Students will enjoy playing games that targets number sense and fact fluency while building community within the elementary campus through hand on games.
---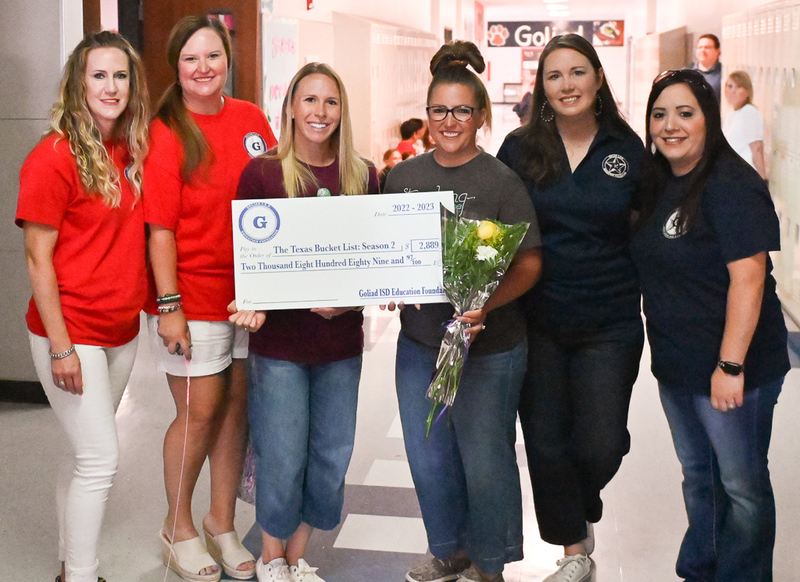 The Texas Bucket List: Season 2
Megan Tislow, fourth grade social studies teacher, will be receiving $2,889.97. This grant will be used for various supplies enabling students to participate in hands-on activities along with field trips to our own Mission and Empresario.
---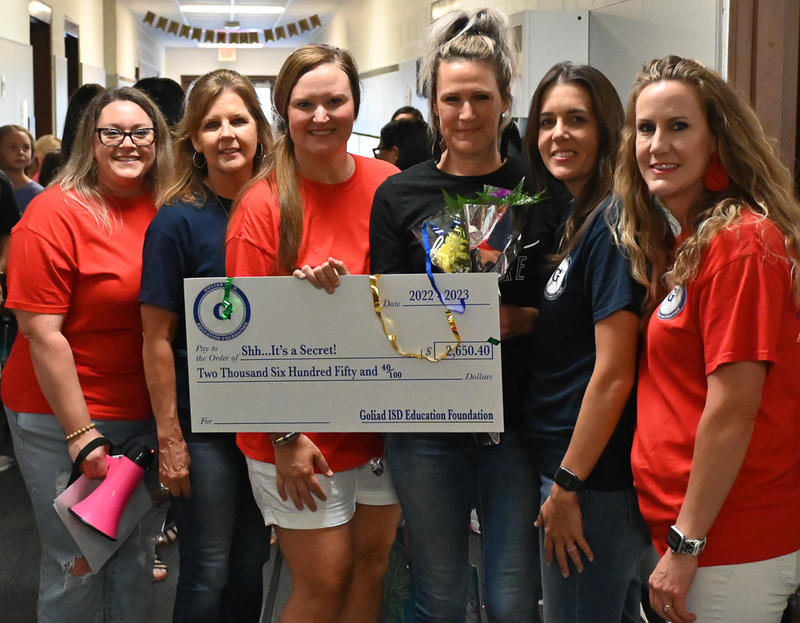 Shh..... It's A Secret!
The Elementary Team of Jamie Myers, Allison Thomas and Cori Bloch will be awarded $2,650.40 for the implementation of the Secret Stories classroom posters and flashcards. Secret Stories are social-emotional "hooks" that allow students to connect with the story while sparking a personal connection with the letters and sounds in any setting. Classroom posters and flashcards that will fast track our students into the ability to decode words with letters that may not follow a traditional sound pattern.