Tickets are still on sale for this weekend's Boots and Boas at the Goliad Auditorium.
Boots and Boas is an annual fundraiser held by the Goliad Education Foundation funding the grants this group gives to teachers within Goliad Independent School District.
Doors to the auditorium open at 6 p.m. Saturday for appetizers and social hour.
The meal, catered by S & J Catering out of Goliad, will be served from 7-8 p.m. The menu, said Tanya Jacob, foundation executive director, is beef medallions, grilled chicken breasts, twice baked potato casserole, green beans, salad and cupcakes.
The cupcakes, she adds, are being prepared by the culinary students at Goliad High School. "We wanted to get the students involved with this," Jacob said.
The advanced floral design students are also lending their skills. "The floral design students made all of the arrangements," she said.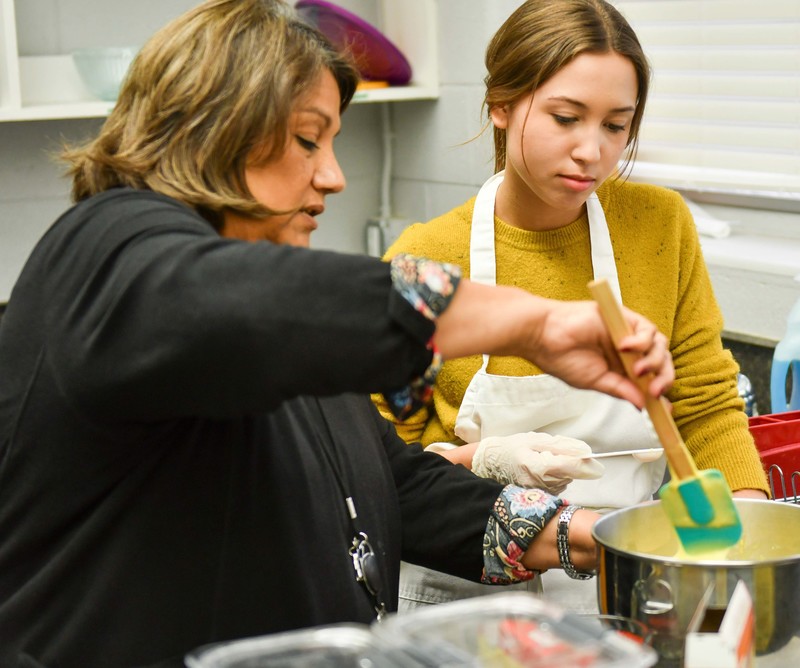 The culinary students, under the direction of Gigi Ousley, teacher at the high school, are baking and icing 400 cupcakes. Photos by Jason Collins
---
All of the money raised will go back into the schools through grants awarded to teachers.
In the past, the foundation has helped purchase a variety of large items including equipment for the welding and science departments at the high school.
Lindsey Youngblood, Goliad High teacher, said that the science and engineering classes have received several grants from the education foundation over the past years.
"We have purchased 3D computers and the software to use in classes such as physics, chemistry, anatomy and biology," Youngblood said. "The anatomy program covers all the major body systems and allows the students to interact with 3D images of the major organs of each system. The program includes features such as virtual dissections, different imaging techniques and disorder/disease information specific to each part.
"The virtual physics program allows us to set up 3D experiments that deal with forces such as gravity, acceleration, friction, collisions and conservation of energy and momentum."
"The chemistry program is just as good, along with the biology program," she said.
Of course that is just a sampling of what the foundation has done to help teachers and students.
"We try to help all aspects and not just tech," Jacob said. "We also try to help everyone out."
And that includes all of the schools within the district.
"Fourth grade is going to NASA in Houston and we are funding that," she said.
Funding these grants will be done in part from money raised during the silent and live auctions including a women's and men's auction.
"We have a fishing trip for four people with a guide out of Rockport and everything is included with that," she said. "The women's raffle is a real pretty silver bracelet from Deutsch and Deutsch."
Events that evening also includes a 50/50 game, live music and dancing.

Jacob said she hopes they raise as much or more than the $53,000 collected last year.
"That is awesome for a small town like us," she said of last year's event.
For those curious on the name of this benefit — it is a reference to the dress code for it.
Guests are invited to wear their best formal attire or simply come in jeans and boots.
"It is really anything you feel comfortable wearing," she said. "Everyone is welcome."
Anyone wishing to purchase tickets can do so from Jacob by calling 361-645-3360, or going by the Goliad Chamber of Commerce, Ag Med or Goliad National Bank.